Deliver top performance for your customers with Zehnder.
Set new standards in ventilation technology.
Top performance for your customers with Zehnder.
Set new standards in ventilation.
Fresh concepts from Zehnder ventilation technology.
Fresh concepts from Zehnder ventilation technology.
Zehnder ventilation systems are suitable for a huge range of different building types – from old buildings to passive houses.
The thick insulation used in modern buildings like this has an adverse effect on the indoor climate, which in turn is harmful to residents' health. That's why ventilation systems are essential in this type of structure. Use Zehnder ventilation systems and your customers will stay healthy, save energy and increase the value of their property. So you will impress them in three ways all at once!
What's more: we would be delighted to help you to plan, install or retrofit a ventilation system – we can provide the right training, software and additional services whatever the project.
Clean air for everyone: here at Zehnder, we are working flat out to achieve this goal. So we will always offer your customers the best and most innovative ventilation technology – such as systems for passive or low-energy houses.
The SKZ quality mark is evidence of the outstanding quality found in the Zehnder ventilation tubes we use for our controlled room ventilation. The inspectors were impressed by the excellent hygiene, durable products and functional design of our ventilation technology range.
We will help you to plan the perfect ventilation solution for your customers. All you have to do is use our Zehnder ComfoQuick planning tool and our Zehnder ComfoPlan installation and planning software. We would also be delighted to welcome you to one of the three training centres we run in Germany and the Netherlands.
From studio apartments to large multi-occupancy homes: Zehnder ventilation technology is suitable for all your projects. We offer both central and decentralised ventilation systems.
Experience a day with Zehnder
Experience a day with Zehnder
Why healthy living is so important
Why healthy living is so important
A healthy indoor climate and well-balanced humidity have a huge impact on our well-being. In the worst-case scenario, the "wrong" living conditions can cause illnesses due to pollutants in the air or furnishings, for example, while excessive amounts of CO2 will lead to headaches and fatigue.
If the room climate is too dry, skin will suffer and become susceptible to the viruses and bacteria that are then able to penetrate it. If the air is too moist, mould will form in no time, which can in turn cause lung disease.
By installing Zehnder ventilation systems, you are doing something good for your customers' health. The systems are fitted with fine filters, which stop outside pollutants entering the living space. And at the same time, any harmful substances that are inside are removed along with the stale air. They also prevent mould forming and keep room humidity at a healthy level.
How balanced ventilation contributes

to healthy living:
A recent study showed interesting facts how balanced ventilation contributes to healthy living. Find out in our free whitepaper
"How balanced ventilation outperforms window ventilation".
Perfect your knowledge
Find out all there is to know about ventilation technology at our Zehnder Academy and webinars – from application examples to the legal basics and even selling points. Our training courses are intended for architects, installers, engineers and technicians.
Come and join us at our next session!
Excellent products for true professionals
Excellent products for true professionals
With Zehnder, you are always up to date with the very latest ventilation technology.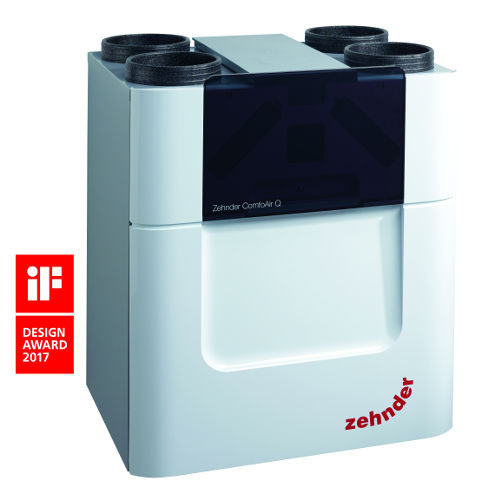 Zehnder ComfoAir Q
Zehnder ComfoAir Q provides outstanding comfort for an optimal indoor climate with maximum energy efficiency. A large number of innovations enable optimum acoustic performance, even better heat recovery and particularly low energy consumption. Find out more here.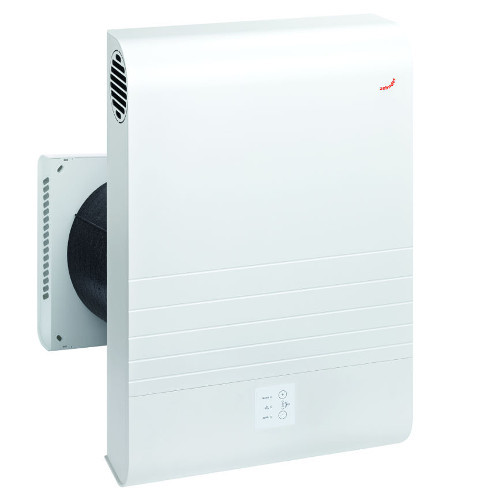 Zehnder ComfoAir 70
Dust-free indoor air and maximum hygiene – that's what today's ventilation technology is all about. The comfort ventilation unit and original filters from Zehnder are perfectly coordinated with one another. What's more: Zehnder ComfoAir 70 is the first ventilation system officially certified for passive houses that works on a decentralised basis. Find out more here.
The advantages for you – a promise from us
The advantages for you – a promise from us

One-stop shop
Create the perfect ventilation system in a flash – at Zehnder you will find everything you need for your project, from grilles to manifolds. Outstanding quality
We have decades of experience in ventilation technology that you can use to your advantage. Awards such as the SKZ quality mark are evidence of our high standards – and the expertise we want you to benefit from.

Premium service
Outstanding service comes first for Zehnder. We have a wide range of training courses and webinars covering every aspect of ventilation technology for you to try. And see our website for sample plans of ventilation systems.
FAQ
FAQ
question_answerWhich ventilation system is right for my project?

Your customer's budget and property will determine which is the right ventilation system: we tend to recommend a central ventilation system for single-family homes, whereas a decentralised system is more suitable for smaller apartments or individual rooms.

Click here to see all Zehnder ventilation systems.

question_answerHow much energy do Zehnder ventilation systems consume?

Zehnder ventilation systems with heat recovery recover up to 20 times more energy from the extract air than the fans actually consume. So in this way, controlled residential ventilation significantly reduces power consumption.

question_answerMy customer is an allergy sufferer. Is controlled residential ventilation even suitable for them?

Definitely – our ventilation technology is actually incredibly hypoallergenic. Extremely fine filters ensure that no pollen makes it inside the home.

question_answerCan I retrofit a Zehnder ventilation system?

Yes, you can retrofit our decentralised and even central ventilation systems – as part of a renovation or refurbishment project, for example. If you do want to retrofit a ventilation system, our YouTube video will show you how.

question_answerHow can ventilation systems help in these times of coronavirus?

Coronavirus has created a great deal of uncertainty. But one thing that is definite is this: comfortable indoor ventilation helps to reduce the number of virus particles in indoor settings and successfully convey the stale air outdoors.

Operating purely as an outdoor air system, comfort ventilation provides a continuous supply of fresh, filtered outdoor air and distributes it around the different rooms in the building, thus rapidly diluting any contamination in the air. Stale and contaminated air is not re-used, it is all removed outdoors instead. Supply air ducts and extract air ducts are kept separate from one another.

Find out more how balanced ventilation contributes to dilute virus particles indoors.